Autronica chosen for fire safety aboard Dockwise's new 'super vessel'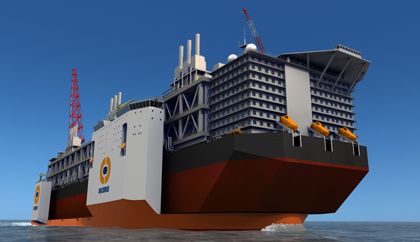 When Dockwise forwarded plans for a new build vessel to service the emerging market for ultra-large transports, a new category had to be created. So, when this groundbreaking heavy lift vessel is delivered in the final quarter of 2012 it will be the first Type-0 vessel on the high seas. And what a sight it will be.
Dockwise is the undisputed champion in the world of large vessels. The company is the only operator with Type 1 vessels in the market, with two gigantic heavy lift vessels with cargo capabilities between 41,000 and 73,000 tons. Dockwise's new Type-0 vessel, which is being built at South Korea's Hyundai Heavy Industries yard, dwarves existing gigantic vessels as the Type-0 vessel has a carrying capacity of more than 110,000 tons and deck space of 275 x 70 meters.
The new super vessel will be the first of its kind in service in the maritime transport industry, and will add unique capabilities to the Dockwise fleet. A vessel of such mammoth proportions brings with it design challenges at every step. In fact, the specifications for the Type-0 designation are still in development. However, when it comes to fire safety, the specification has already been decided.
Autronica has been tasked with providing the entire fire detection system for Dockwise's super vessel. With such a large space to cover, AutroSafe was the natural choice as it has been designed to provide reliable, fail-safe coverage on large transport and offshore vessels.
Dockwise's new vessel is being developed to meet new demands in the oil & gas industry, which is where a large proportion of the company's revenue is generated. Trends towards larger scale projects and equipment are developing due to new challenges the industry faces. Much of the "easy oil" is gone so exploration and production is taking place further from shore, in deeper waters and in more hostile environments. So,demand for larger, heavier equipment, in single transportable modules is increasing. This, in turn, increases the demand for larger vessels to move this equipment.
AutroSafe is the ideal solution for this development. It provides the ultimate in fire safety for large vessels andoil & gas platforms; but the high reliability, redundancy and innovative technology are also the perfect fit for vessels of all sizes. Dockwise's newbuild may be a new type of super vessel, but AutroSafe provides superlative fire detection for vessels of any type.
New Dockwise Type-0 Vessel Specifications
Length o.a.: 275.00 meters
Length b.p.: 270.00 meters
Breadth moulded: 70.00 meters
Breadth max: 78.75 meters
Free Deck Space: 275 x 70 meters, but no restrictions for overhang forward and aft
Depth: 15.50 meters
Draft submerged: 31.50 meters
Summer draft: 9.73 meters
Summer draft: (B-60) 10.52 meters
Summer draft: (B-100) 11.04 meters
Water depth above 16.00meters
Main deck:
Deadweight(B-100): 117,000 metric tons
Expected speed: 14 knots
Class: DNV
About Dockwise Ltd./The Dockwise Group
Dockwise Ltd., a Bermuda incorporated company, has a workforce of more than 1200 people both offshore and onshore. The company is the leading marine contractor providing total transport services to the offshore, onshore and yachting industries as well as installation services of extremely heavy offshore platforms. The Group is headquartered in Breda, the Netherlands. The Group's main commercial offices are located in the Netherlands, the United States and China with sales offices in Korea, Australia, Brazil, Russia, Singapore, Malaysia, Mexico and Nigeria. The Dockwise Yacht Transport business unit is headquartered in Fort Lauderdale and in Genoa, Italy. The Dockwise Shipping network is supported by agents in Norway, Argentina and Italy. To support all of its services to customers, the group has three additional engineering centers in Houston, Breda and Shanghai, and manufactures specific motion reduction equipment such as LMU (Leg Mating Units) and DMU (Deck Mating Units) and owns a fleet of 19 purpose built, semi-submersible vessels.
For more information, see www.dockwise.com.